PREGNANCY STRETCHMARK OIL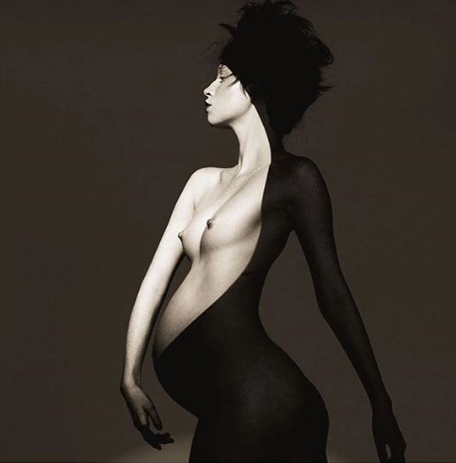 Our new PREGNANCY STRETCHMARK OIL is here: composed to fight stretch marks, firm, tone, strengthen and support changing skin. Harmonised with sun-infused Rose petals and Vanilla bean to ease nausea, balance mood swings, harmonise the spirit, and invite love and joy into the heartspace. Hand-blended, as we do, at Full Moon. 100% essential oil-free.
STINGING NETTLE LEAVES / Urtica Dioica
Kangaroo Valley. Air-dried, sun-infused leaves. Organic/in conversion biodynamic.
If you have just one herb during pregnancy, make it the humble stinging nettle. It's a fantastic source  of vitamins A,C and K, iron, potassium, manganese, calcium, magnesium, phosphorus, silicon dioxide, iodine, silicon, sodium and sulfur, and has a high content of proteins and amino acids. Relaxes the muscles, tones the skin, improves circulation, and relieves muscle and joint pain. Beneficial in preventing scars, stretch marks and age spots, reduces fine lines and improves skin tone and elasticity
Ancient history: American Indians referred to nettle as green-gold and Native American women drank nettle tea during pregnancy to strengthen the fetus and ease delivery. They also used its abundant vitamin K to stop uterine bleeding. Nettle has a well-deserved reputation as a hemostatic. Mineral-rich nettle is one of the most nourishing tonics in the plant kingdom and is an amazing soil enriche revered by biodynamic gardeners and farmers.
VANILLA* / Vanilla planifolia. 
Daintree, Australia. Sun-cured. Certified organic.
The gentle, steady warmth of sun-infusion releases the rich fragrance, complex aroma and actively antioxidant Vanillin compounds into our base oil. Helps soothe sensitive skin, neutralise free radicals that cause premature aging. Stimulates formation of new tissue. On an aromatic level, Vanilla eases nausea and relaxes the mind. it 'sweetens' the somewhat bitter medicinal constituents of the Olive oil and adds a luxurious, grounding, sensually exotic quality to our composition.
Ancient history:The Totonac Indians first cultivated the beans for medicine, spiritual rituals, insect repellent and tributes to their Aztec conquerors, who used Vanilla to flavour and super-charge their aphrodisiac chocolate elixirs.
OLIVE OIL** / Olea europaea. 
Victoria, Australia. Cold pressed. Extra Virgin. Certified Demeter Biodynamic.
The non-invasive, low temperatures of sun-infusion allow us to use extra virgin, antioxidant-rich Olive oil without destroying its heat sensitive vital nutrients. Antioxidant Polyphenols protect the skin from ultraviolet radiation and enhance skin cell regeneration, improving tone and elasticity. Moisturises, softens and replenishes dry, elastizises mature skin, prevents and fades the appearance of stretch marks.
Ancient history:The ancient Greeks believed the olive tree was a gift from the goddess Athena and used olive oil in their religious ceremonies and beautifying rituals. Italian diva Sophia Loren credits daily bathing in Olive oil, also described as 'liquid gold' in Ancient Greek mythology, for her eternally luminous skin and age defying beauty.
ROSE PETALS* / Rosa Centifolia.
India. Air-dried, sun-infused petals. Certified Organic.
Rose, the queen of all blooms with the highest vibration of all flowers and complex chemical composition, is a gentle yet powerful harmoniser during pregnancy. It's high concentrations of vitamin C restore and maintain collagen, necessary for the formation of connective tissue in the skin, and protect cells from elemental damage. The natural oils and emollients found in roses lock in moisture, keeping even the driest skin feeling smooth, plump and dewy. Rose is especially beneficial for those with sensitive skin and helps calming skin conditions such as roseacea, eczema and psoriasis. A natural astringent, it tightens pores and restores suppleness and a healthy glow to dull, tired skin. The softly divine aromatics lower the concentration of the stress hormone cortisol in the body and help with good sleep. Rose fragrance balances the mood, radiates joy and serenity and boost vitality in our lymphatic system and blood circulation. Wearing high vibration Rose oil - infused or essential - counteracts the fatiguing effects of cell phones and computers by restoring the integrity of your electromagnetic field. Quint-essentially feminine, the rose has the remarkable ability to strengthen the heart, so we may walk through pregnancy with courage, joy and harmony. Rather than using the more commonly known distilled essence which requires 242,000 petals to make 5ml of (!), we sun-infuse the petals over 3 months in olive oil under direct sunlight, to create our richly emollient, almost waxy oil of heavenly, out-of-this-world scent.
Ancient history: Named "the queen of flowers" by the ancient Greek poet Sappho, the rose has been a symbol of femininity and purity since ancient times, and played central role beauty rituals, as well well as legends and ancient myths.
CAMELLIA SEED OIL* / Camellia Oleifera.
USA. Cold pressed. Certified Organic
Retains moisture, absorbs rapidly and penetrates deeply to promote the appearance of smooth and supple skin and help prevent stretchmarks. Contains the active component squalene, important for the skin's natural emollient system. A deficiency of squalene can result in premature aging.
Ancient history: Praised as an ancient beauty secret of the Geishas for its highly restorative effect, to strengthen skin elasticity, and to protect their luxuriously fair skin from the elements.
WHEAT GERM OIL* / Triticum Vulgare.
Australia. Cold pressed. Certified Organic.
It's rare to find fresh, expeller(cold)-pressed Wheat Germ oil that is not only certified organic but also non-GMO, unrefined, unfiltered and extra virgin these days, so we're ultra proud of our velvet-textured, Australian-grown Wheat Germ oil that ticks all the boxes and then some. Rich source of vitamin E, lecithin, proteins and antioxidants, protect cell membranes from oxidation, fades stretch marks and keeps skin moisturised, elastic and firm, it's high octacosanol content improves muscle tone. The scent of freshly pressed Wheat Germ oil is earthy, with a deeply moorish cereal note and sun-dried summer hay fragrance. So beautiful.
Ancient history: Cultivation of wheat goes back to 8000 B. C. In India, where wheat germ is still an important ingredient in Ayurvedic beauty rituals today, women used a treatment of flour or wheat husk mixed with milk to exfoliate the skin German women traditionally use fresh Wheat Germ oil during pregnancy, both internally and externally.Ancient history:
PUMPKIN SEED OIL* / Cucurbita Pepo.
Australia. Cold pressed. Certified Organic.
Dark orange, softly aromatic, unrefined Pumpkin seed oil is exceptionally high in vitamin E, with very high levels of natural antioxidants and polyunsaturated fatty acids which help your body absorb vitamins A, D, E and K. Pumplin Seed oil is high in natural Zinc, important to maintains the integrity of the connective tissue while the skin stretches. Excellent source of omega-3 fatty acid, essential for brain function, heart health, lowering LDL cholesterol, fighting inflammation and reducing high blood pressure. Pregnant and breast-feeding moms need omega-3 fatty acids so that their babies' eyes and brains develop fully. Exceptionally beneficial for reducing scarring, wound healing and diminishing the appearance of stretch marks. Helps soothe the effects of psoriasis and dermatitis. 
Ancient history: Native American tribes treasured the fruit and seeds for their dietary and medicinal properties. Also called "pepitas", the seeds were actually discovered by archaeologists in caves in Mexico that date back to 7,000 B.C. 
AVOCADO SEED OIL* / Persea Americana.
Australia. Cold pressed. Certified Organic.
Favourite oil for well-nourished, glowing skin. High in folate, important during periods of rapid cell division and growth such as pregnancy. The high amount of folate in avocados is essential in the prevention of birth defects, such as neural tube defect and spina bifida, so don't just use the oil on your skin, eat this incredible fruit daily during pregnancy, in moderation of course - as everything;-). The good fats in avocados help control triglycerides in the bloodstream, lower blood cholesterol and control diabetes, slows the aging process, and encourages a healthy nervous system. Glutathione may boost immune systems, Oleic acid and Potassium help lowering cholesterol and reducing the risk of high blood pressure. Avocado oil penetrates the skin more deeply than other oils allowing it to transport nutrients through the outer epidermis into the deeper layers. Great for all skin types, nourishes and reputedly repairs dehydrated, scarred skin. Especially kind to mature, sensitive or troubled skin.
Ancient history: Avocado tree was considered sacred by the Aztecs and Mayas. All parts of the tree played an important part in medicine rituals: Bark and leaves for respiratory and intestinal ailments. The Fruit's rind to treat parasites. The fruit to heal wounds. The seed for bacterial infections.
SEABUCKTHORN FRUIT OIL* / Hippophae Rhamnoides.
Germany. Cold pressed. Certified Organic.
The only plant source that contains omega 3, 6, 9, and the rare Omega 7 fatty acid which helps soothe the skin, stimulate cell repair and cell generation and restore youthful glow. Superoxide dismutase-rich, an enzyme, that fights free radical damage and provide superior elemental protection.
Ancient History: Genghis Khan used Seabuckthorn elixir to supercharge his army and Chinese, Tibetan and Mongolian women have long been using the berry both internally and externally in their glow-inducing beauty rituals.
RAW HONEYCOMB
Australia. Gathered in the pristine Blue Mountains by wild honeybees. Wildcrafted.
Raw honey is a rich source of minerals, proteins, enzymes, vitamins, and amino acids, critical for cell and tissue generation, maintenance, and repair. We use the whole comb, honey and beeswax, because the honey stored within the honeycomb is the purest, rawest form of honey, and we get to load up on the exceptional skin properties of beeswax: purifying, anti-allergenic, antibacterial and rich in vitamin A, important to aid cell regeneration. Beeswax is a natural 'humectant', it actively attracts water molecules from the deeper layers of the skin to the skin's surface, keeping it hydrated for longer. Raw honey is safe to use on your skin during pregnancy.
Ancient history: Human use of honey is traced to some 8000 years ago The ancient Egyptians, Assyrians, Chinese, Greeks and Romans all loved honey - and beeswax. The ancient vedic civilisation considered honey one of nature's most remarkable gifts to mankind and is used in Ayurvedic medicine for treating wounds, skin and digestive disorders, imbalances of the lungs, heart palpitation, anaemia, and to improve eye sight. Almost all Egyptian medicines contained honey, together with wine and milk for internal potions and mixed with beeswax for topical ointments. The ancient greeks used honey to prevent scars.
Much love + light.
Johanna
x
PS: I MAKE THE PREGNANCY STRETCHMARK OIL ON SPECIAL REQUEST ONLY, SEND ME AN EMAIL TO johanna@lepaar.com
---